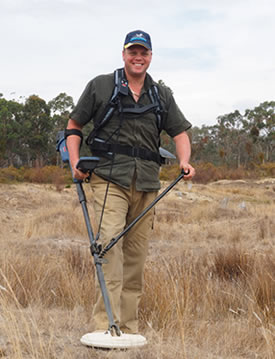 The Story of the Seekers
In February 1980, the Victorian Seekers Club (Vic Seekers) was formed by David and Pam Snelling. At this period, large gold nuggets were being found in the golden triangle. David decided to use his experience in the art of metal detecting to form a club in the Waverley area (Melbourne, Victoria, Australia).
He advertised in the local paper that the first meeting would be held in the little Uniting Church Hall in Mt Waverley - to his surprise, there was "standing room" only. That night the Seekers Club was born.
Under his guidance, the club grew and prospered - the goldfields became our playground and handsome nuggets, fabulous coins and valuable relics were found. Eventually other clubs formed, but the "Vic Seekers" have always been regarded as the biggest and the best.
By June 1980 the club had 79 sole and family groups and in June 1981, the membership list had grown to over 100. In order to accommodate our growing needs, David transferred the meetings to the Community Centre, Mt Waverley where they are still held.
After serving for 3½ years, David and Pam retired and handed the chair to Marshall Pardee. In 1984 the club became incorporated.