Communications
Almost by definition, Outback Prospecting means poor to no electronic communications. Unless, of course, if you have a satellite phone or a VHF Radio setup; in which case this section will be of less interest to you.
In any event, you should always maintain UHF (walkie talkie) communications with your fellow outback prospectors. You should also always scan UHF Channels 5 and 35 - the emergency (duplex) channels. Your UHF handset should be a minimum of 2 watts ('Baby' size handsets are not suitable). Your UHF In-car should be a minimum 5 watts. Often battery indicators will show full but drop to empty as soon as you try talking - always carry spare batteries.
The rest of this section concerns cell phone based communications.

Note: All (?, certainly most) 3G based cell phones (not just smart phones) can be connected to a PC/Laptop to enable Internet connectivity; usually via a USB cable. But, in any case, you do need to ensure you have an adequate Data Plan (to avoid exorbitant data charges). You do not need a separate data plan on a dedicated 3G USB Modem. However if you do have a 3G USB Modem, the following applies equally to that, as per a cell phone.
Cell phone communications
First and foremost, in Australia, for remote cell phone communications you should be on the Telstra network; either directly or via 'National Roaming' (make sure it is switched on and available in the destination area, for example Vodafone's National Roaming is only available in Victoria and Tasmania). Otherwise, get yourself a Telstra prepaid SIM.
Secondly you should have a Telstra Next-G or 4G Blue Tick cell phone (endorsed by Telstra for rural handheld coverage; check out this video to see how Telstra perform Blue Tick testing). Vodafone's 3G, for example, does not run on Telstra's Next-G service and in some locations only Next-G is available (that is, Telstra's 3G is also not available).
Thirdly, your cell phone should have an external antenna connection port. If your cell phone does not have an external antenna port, all is not lost. Many cell phones have a test antenna port accessible behind the cover although it may not be designed for regular use (more susceptible to damage). Lastly you can always use an induction antenna connection (simply sits against the back of your cell phone with no electrical connectivity) although that provides the least benefit.
The above are listed in order of importance with point one being, by far, the most significant. Although 4G networks are currently being rolled out, carrier network coverage and Blue Tick endorsements can be expected to remain. Also all Telstra 4G cell phones will fallback to Next-G when required.
You probably already have a phone and maybe don't want a shiny new 4G smartphone (until your current plan runs out?). If so then consider a low cost, NextG 'dumb phone' like the Telstra T96 which is Blue Tick and also has an external antenna connector. N.B. Most phones have third party, online reviews and you should research before purchase.
BTW: If you're running a second phone, here's a couple of factoids that may help if you need to juggle 3G/4G phones and micro/nano SIM cards.
You can use a '4G' SIM in a 3G phone and vice versa. SIM cards are all the same. There is really no such thing as a 3G or 4G SIM card - it is your phone that is 3G or 4G, etc, capable. (Caution: your phone may be 'locked' to its network provider, so a Telstra SIM in an Optus phone might not work. Your phone company can 'unlock' the phone for you at the end of its contract and/or for a fee.)

If your new phone has a nano SIM card but your other phone has a micro SIM card, you can buy adaptors to upsize your SIM card. Just Google 'nano SIM adaptor'. Conversely, if you have a micro SIM and you've purchased a new phone without a SIM but it requires a nano SIM; your phone company can swap your micro SIM to a nano, then you can use an adaptor to upsize your nano back to a micro.
Antennas
If you are within less than 100 line-of-sight kilometres from a Telstra cell phone tower, it may be worth trying your cell phone, in conjunction with a high gain antenna (if within 50kms it is definitely worth trying). How successful you are will depend on line of sight distance, obstructions between you and the tower, time of day (atmospheric conditions - around dawn is best), your antenna, the height of your antenna (higher is better), length of the antenna's connecting wire (pay for quality and keep it short), your cell phone and your cell phone's antenna connection.
All things being equal, the antenna's gain will be the determining factor. Notionally, the higher the gain the better, however, this can be compromised by 'noise' (such as reflections) that will also be picked up; although this is probably of much less of an issue especially when remote.
When mobile, the size of your antenna is limited by practical considerations. Ideally the smaller the better. However, larger antennas will generally yield better results; but often this is not the case as design and manufacturing quality is important (also, more expensive does not mean better).
Have a look at http://www.telcoantennas.com.au/site/12dbi-inside-outside-window-antenna. This is a highly compact antenna (about 25cm or 1 foot) that provides 12dBi gain over a wide frequency range including 4G and is not too directional, making it easier to aim at the tower and more resilient to winds.
In contrast look at http://www.telcoantennas.com.au/site/14dbi-yagi-directional-antenna. This is a (long) Yagi antenna that provides 14dBi over a much narrower range of frequencies, including Next-G but not 4G; and is also more directional than the first antenna, above. If you can sacrifice 4G, its main drawback is that it is about 136cm (almost 1.5 yards) long.
There are various antenna suppliers, however, the above provides an example of compromises that can be expected. You can also build your own relatively easily however minor construction inaccuracies can result in dramatically variable performance. Have a look at http://www.tigereye.net.au/vk4ion/nextg_yagi.html. Note that its length is 'only' 70cm (2.3 feet). Also have a look at http://whirlpool.net.au/wiki/homemade_yagi for other designs and information including reception coverage maps.
I bought the first mentioned, compact 12dBi antenna and it works well especially considering it packs away easily.
Connecting Your Cell Phone
Most commercially supplied antenna cables for cell phones will be terminated by an 'FME' connector. Picture below shows an antenna cable with a male and female FME connector.
Your antenna will usually be supplied with a cable attached so only the connector(s) on the right should be relevant. If your antenna is supplied with only a short cable (about 25cm or 1 foot) plus connector you will need to match that connector and connect it to a longer cable. However it is best to minimise the number of connections - so consider hard wiring your 'long' cable directly to the antenna if possible; remembering to keep it as short as practical.
The connectors on the right plug into a 'pig tail' adaptor (aka. 'patch lead') for your cell phone: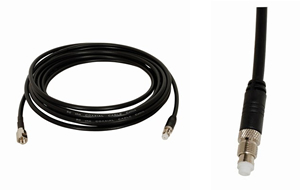 The following pictures show, on the left, a common FME 'pig tail' cell phone adaptor. You will need to purchase one that fits your cell phone's external antenna connector. Have a look here: http://www.telcoantennas.com.au/site/catalog/patch-leads/list-connector.
On the right is an induction based FME 'pig tail' cell phone adaptor - it simply sits behind any cell phone's internal antenna and is usually supplied with Valcro. This is for use if your cell phone does not have an external antenna connector - it works but is not a preferred option.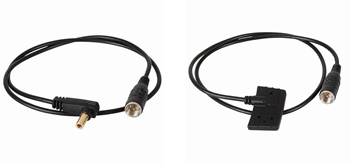 Many phones without an explicit external antenna connectors do, in fact, have antenna connectors built-in (internally) - for testing purposes. FME pig tail adaptors can be purchased for these however you will likely need to drill a hole in the cell phone's back cover (or purchase a pre-drilled one). These internal connectors are not designed for regular use and care must be taken. Have a look here: https://www.telcoantennas.com.au/site/samsung-galaxy-s4-patch-lead-and-back-cover-combo.
Mounting your antenna
Assuming you have yourself an antenna, the next step is to mount it as high as practical. To do this I bought myself 2 extending tent poles. When fully extended each pole measures about 8 feet. They consist of a narrow metal pole sliding within a fatter pole. This allows you to join 3 sections together with the narrow section connecting 2 fat sections on its ends (you end up with a spare narrow section). This give a total height of about 12 feet. You can see the poles in use with an omni-directional monopole/whip antenna, in the picture below (if you look closely you can see the three pole sections):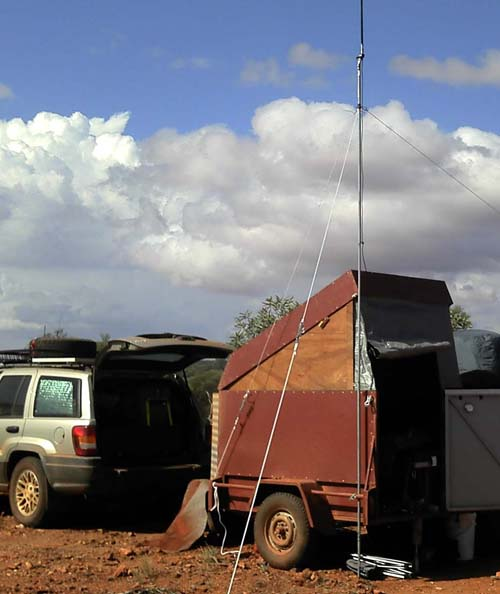 In areas of high wind you will probably want to also attach guy-ropes mid-way up the extended poles. Just carry some spare guy-ropes for when required.

For a directional antenna, you will also want to ensure that the guy-rope to pole connector is able to rotate. You will probably also want a mechanism to 'lock' the directional position (probably just tie a string off the screws used to connect the pole sections together).
Here is a picture showing my 12dBi antenna, plus a close-up of the mostly disassembled 3-section antenna pole as per the previous picture: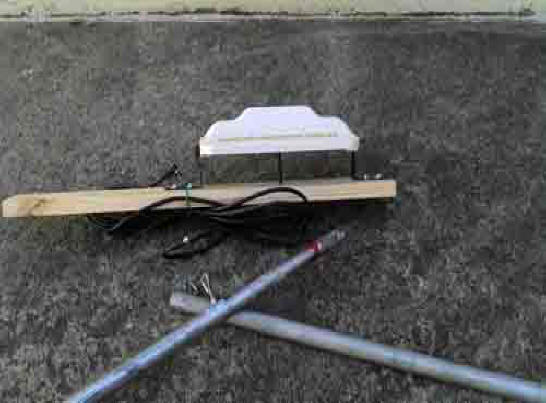 The antenna is mounted on wood to avoid any metal that may interfere with the antenna's reception. I used metal brackets but it's better to use plastic, etc, if possible. The base of the wooden mount is then bolted onto the end of the tent pole. (I've recently 'upgraded' to using a paint roller extension pole. This works well because I'm able to connect my antenna to a paint roller handle, less the roller part, and simply attach it to the pole by screwing the handle on.)